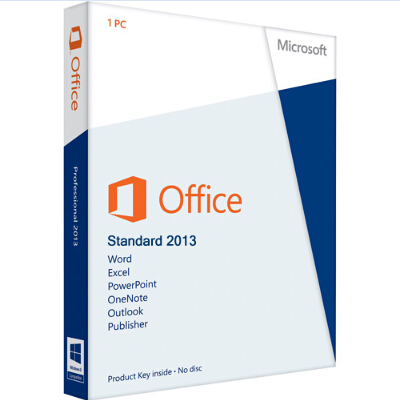 Component
MINIMUM REQUIREMENTS

Computer and processor

1 gigahertz (GHz) or faster x86- or x64-bit processor with SSE2 instruction set

Memory (RAM)

1 gigabyte (GB) RAM (32-bit); 2 gigabytes (GB) RAM (64-bit)

Hard Disk

3.0 gigabytes (GB) available

Display

Graphics hardware acceleration requires a DirectX10 graphics card and a 1024 x 576 or higher resolution monitor

Operating System

Office 2013 runs on 32-bit and 64-bit versions of Microsoft Windows operating systems. When you run Office 2013 32-bit on a 64-bit version of a Windows operating system, the program runs in the 32-bit layer of the Windows operating system. For more information, see 64-bit editions of Office 2013. Here are supported Windows operating systems on which you can run Office 2013 32-bit and 64-bit programs.

Office 2013 32-bit products are supported on the following Windows operating systems:

Windows 7 (32-bit or 64-bit)
Windows 8 (32-bit or 64-bit)
Windows 8.1 (32-bit or 64-bit)
Windows Server 2008 R2 (64-bit)*
Windows Server 2012 (64-bit)**

Office 2013 64-bit products are only supported on the following Windows operating systems:

Windows 7 (64-bit)
Windows 8 (64-bit)
Windows 8.1 (64-bit)
Windows Server 2008 R2 (64-bit)*
Windows Server 2012 (64-bit)**

*Windows Server 2008 R2 is available only in 64-bit architecture

**Windows Server 2012 is available only in 64-bit architecture

 Note:

No support is provided for side-by-side installations of 32-bit and 64-bit editions of Office. For example, there is no support for side-by-side installations of Office 2010 32-bit with Office 2013 64-bit, or for Excel 2010 64-bit and Visio 2013 32-bit.

Lync Server 2013 is available only in a 64-bit edition, which requires hardware and a 64-bit edition of the Windows Server operating system. A 32-bit edition of Lync Server 2013 is not available with this release.

Browser

Internet Explorer 8, 9, 10, or 11; Mozilla Firefox 10.x or a later version; Apple Safari 5; or Google Chrome 17.x.

.NET version

3.5, 4.0, or 4.5

Multi-touch

A touch-enabled device is required to use any multi-touch functionality. But, all features and functionality are always available by using a keyboard, mouse, or other standard or accessible input device. Note that new touch features are optimized for use with Windows 8.

Additional requirements and considerations

Some functionality may vary, based on the system configuration. Some features may require additional or advanced hardware or server connectivity.
How to Check Activation Status in Microsoft Office 2013
Microsoft Office 2013 (Office 15) is the latest version of Microsoft Office which has some Extra feature than the old versions. Its development work has started from 2010 and ending on October 11 2012. At that time Microsoft released the RTM (Release to manufacturing) version of office 15. Which is available as free in Microsoft Website. RTM version does not require the activation. On The 29th January 2013 Microsoft releases the Final version of Microsoft Office 2013. After the final version has released it is required to buy that product to use it. So it needs to activate it using a Genuine Serial key from Microsoft.
Microsoft Office 2013 includes the following product of Microsoft Office:
1. Microsoft Office Word
2. Microsoft Office Excel
3. Microsoft Office Power POint
4. Microsoft Office OneNote
5. Microsoft Office OutLook
6. Microsoft Office Publisher
7. Microsoft Office Access
8. Microsoft Office Infopath
9. Microsoft Office Lync
10. Microsoft Office Share point designer
11. Microsoft Office Project
12. Microsoft Office Visio
13. Microsoft Office Sky drive Pro
The below process will show you how can we check the Activation Status of the Microsoft Office. The activation Status shows you whether the program is activated or not (i.e. Genuine or Not Genuine). If the program is not activated then you will get the activation instruction on there. You can also change the serial key on that position to upgrade the version of Microsoft Office 2013 by receiving the latest updates.
How to Check the Activation Status of Microsoft Office 2013 Product
1. Open a blank document of any the Microsoft Office 2013 product.
2. Now Click on "FILE" on the Menu bar of the open Microsoft Office product.
3. Choose "Account" on the left sidebar that appears after clicking on File.
4. At the right side pane you will get the Activation Status on "Product Information"of your Installed Microsoft Office 2013.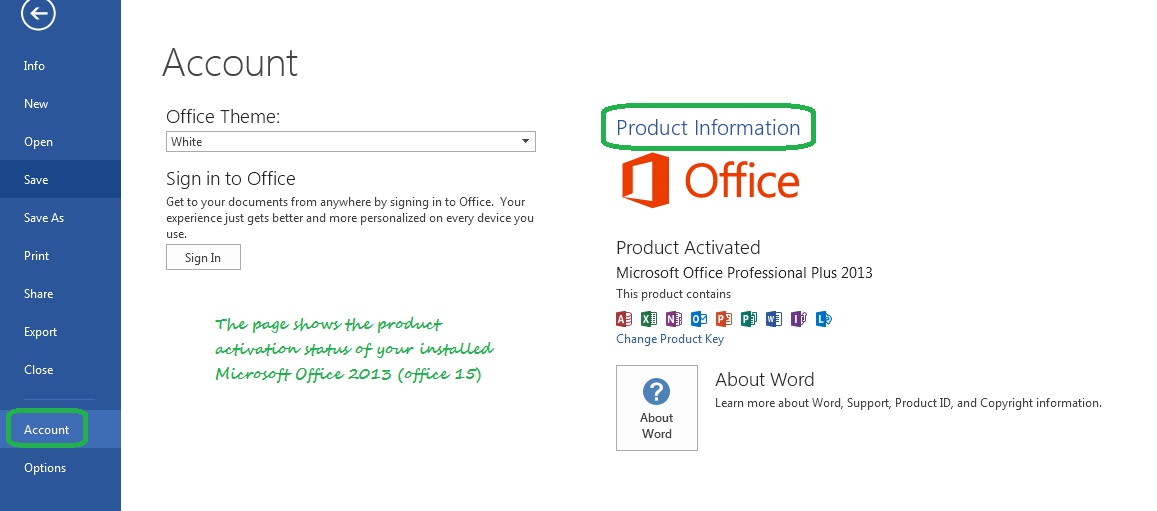 5. If you are getting the message "Product Activated" that means that you have a genuine activated Office 15. You can change the serial key by clicking "change product Key" to update your Volume License.
6. If you are getting message "Product required activation" that means you have not registered your Office 15. Get a serial key from Microsoft Store and Enter that otherwise after the expiration of the trial period you will not able to use that.
Cheap Office Standard 2013 serial sold by IBC Groups is 100% guaranteed and gives you the lowest way to access Office Standard 2013. Office Standard 2013strongly recommended for our online shop has received overwhelming positive compliments from our customers. 100% genuine and fast delivery
Service and Terms
The Key and Download links will send to your email within 8 hours. Please do not share the key, or install it on different computers. We offer full refund lifetime but over used keys won't get warranty.
For Download Link:
HTTP download link, from the official website(such as microsoft or adobe.com) or dropbox.com , doc.google.com .
Why Download:
Easier, quicker and more efficient to get the Office Standard 2013installation file( ISO, EXE ir DMG), Download only takes a little time, No need to wait for goods Arrivals.
Avoid shipping, safer than buying a fake retail box.
Save for your pocket!
Delivery & Guarantee & Refound:
Office Standard 2013 Key and Download URL will be send via Email within 8 hours.
Please check your SPAM Box in case it been filtered by your mail spam system.
Offer full refund guarantee if Office Standard 2013 FULL VERSION key or download do not work. (For key issue, you must confirm you are using a genuine software)
Payment:
The standard payment method of our IBC Groups store is Paypal or Paypal's Credit Cart.You can pay through your PayPal account
You can pay with your credit card without having a PayPal account, When confirm the order, Our program will direct you to the PayPal payment page, You can type in your Credit Card and Billing Information on the left side and pay directly through Credit Card without creating a PayPal account nor sharing your financial information with us, Totally safe.