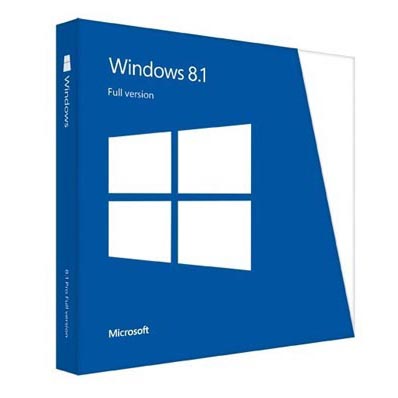 If you want to run Windows 8.1 on your PC, here's what it takes:
Processor: 1 gigahertz (GHz) or faster with support for PAE, NX, and SSE2
RAM: 1 gigabyte (GB) (32-bit) or 2 GB (64-bit)
Hard disk space: 16 GB (32-bit) or 20 GB (64-bit)
Graphics card: Microsoft DirectX 9 graphics device with WDDM driver
Additional requirements to use certain features:
To use touch, you need a tablet or a monitor that supports multitouch
To access the Windows Store and to download, run, and snap apps, you need an active Internet connection and a screen resolution of at least 1024 x 768
Microsoft account required for some features
Internet access (ISP fees might apply)
Secure boot requires firmware that supports UEFI v2.3.1 Errata B and has the Microsoft Windows Certification Authority in the UEFI signature database
Some games and programs might require a graphics card compatible with DirectX 10 or higher for optimal performance
Watching DVDs requires separate playback software
Windows Media Center license sold separately
BitLocker To Go requires a USB flash drive (Windows 8.1 Pro only)
BitLocker requires either Trusted Platform Module (TPM) 1.2 or a USB flash drive (Windows 8.1 Pro only)
Client Hyper-V requires a 64-bit system with second level address translation (SLAT) capabilities and additional 2 GB of RAM (Windows 8.1 Pro only)
A TV tuner is required to play and record live TV in Windows Media Center (Windows 8.1 Pro Pack and Windows 8.1 Media Center Pack only)
Miracast requires a display adapter which supports Windows Display Driver Model (WDDM) 1.3, and a Wi-Fi adapter that supports Wi-Fi Direct
Wi-Fi Direct Printing requires a Wi-Fi adapter that supports Wi-Fi Direct and a device that supports Wi-Fi Direct Printing
Free internet TV content varies by geography, some content might require additional fees (Windows 8.1 Pro Pack and Windows 8.1 Media Center Pack only)
To install a 64-bit OS on a 64-bit PC, your processor needs to support CMPXCHG16b, PrefetchW, and LAHF/SAHF
InstantGo works only with computers designed for Connected Standby
If your PC is currently running Windows 7 or Windows 8 you can check to see if it meets the requirements by running the Upgrade Assistant.
Windows 8 Activation using Desktop Control Panel
With the first public available Windows 8 release, Windows Developer Preview I had the chance to see how easy is Windows 8 activation.
Although you might have some difficulty to find the right Control Panel screen to activate Windows 8, you might get surprised that Microsoft Windows 8 has already been activated by the new operating system Action Center.
What is Windows 8 Activation ?
Let's start with What is Windows Activation for a Windows 8 setup.
Windows activation helps to identify that your Windows 8 installation is genuine and helps to prove that your Windows 8 software is used on a number of computers within Microsoft Software License Terms apply. Please note you should activate Windows 8 within the given 30-days period after installation date using either online activation or using phone activation. Automatic online activation will activate Windows 8 copy after 3 days later the new operating system software is used.
First display the Windows 8 Start screen where the tile theme is active and click the pinned by default Control Panel tile on the screen.

If your Windows 8 installation has not been yet activated automatically, or your Windows 8 computer does not have internet connection you will see the Activate Windows screen on display when the new Control Panel is running.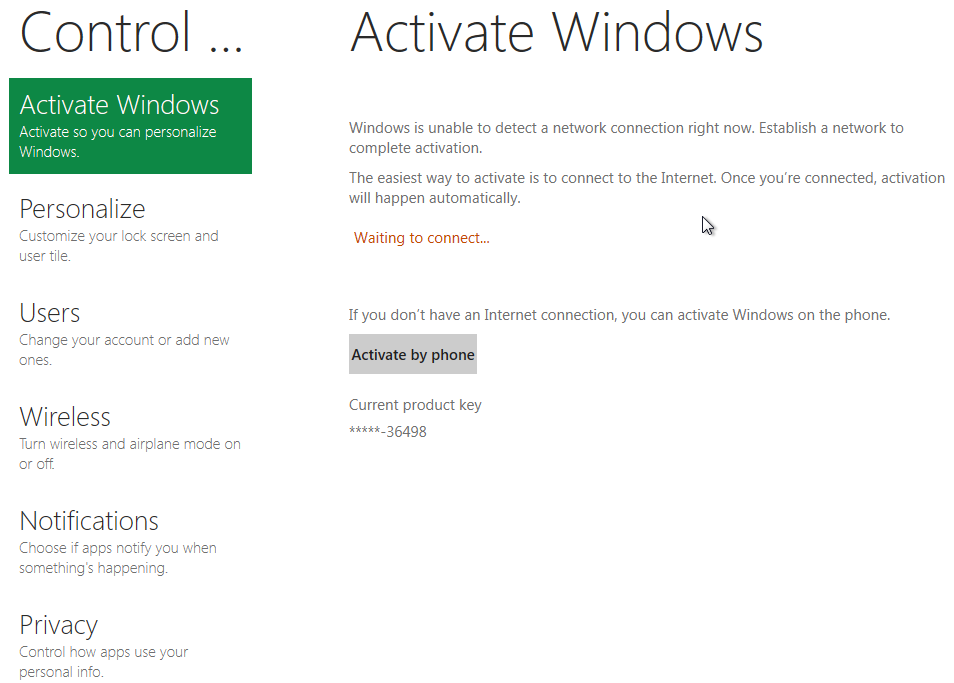 Windows is unable to detect a network connection right now. Establish network to complete activation.
The easiest way to activate is to connect to the Internet. Once you're connected, activation will happen automatically.
If you don't have an Internet connection, you can activate Windows on the phone. In order to activate Windows 8 using phone just like previous Windows OS (Windows 7 or Windows Vista), click on Activate by phone button shown on above screenshot. You can check the Windows activation by phone details here.
If your Windows 8 activation is completed you can see details again using the Control Panel. But this time you should switch to Desktop Control Panel which is the control panel we are used to than the new Windows 8 Control Panel.
When the new tile theme Control Panel is displayed on Windows 8 screen, scroll down on the left side of the Control Panel screen till you see "More sttings" option.
Click on "More settings" to display the Windows Vista or Windows 7 style Control Panel, called as Desktop Control Panel in Windows 8.

Follow the below Control Panel selections:
Control Panel > System and Security > System
Users will realize the Windows 8 activation section at the bottom of the screen.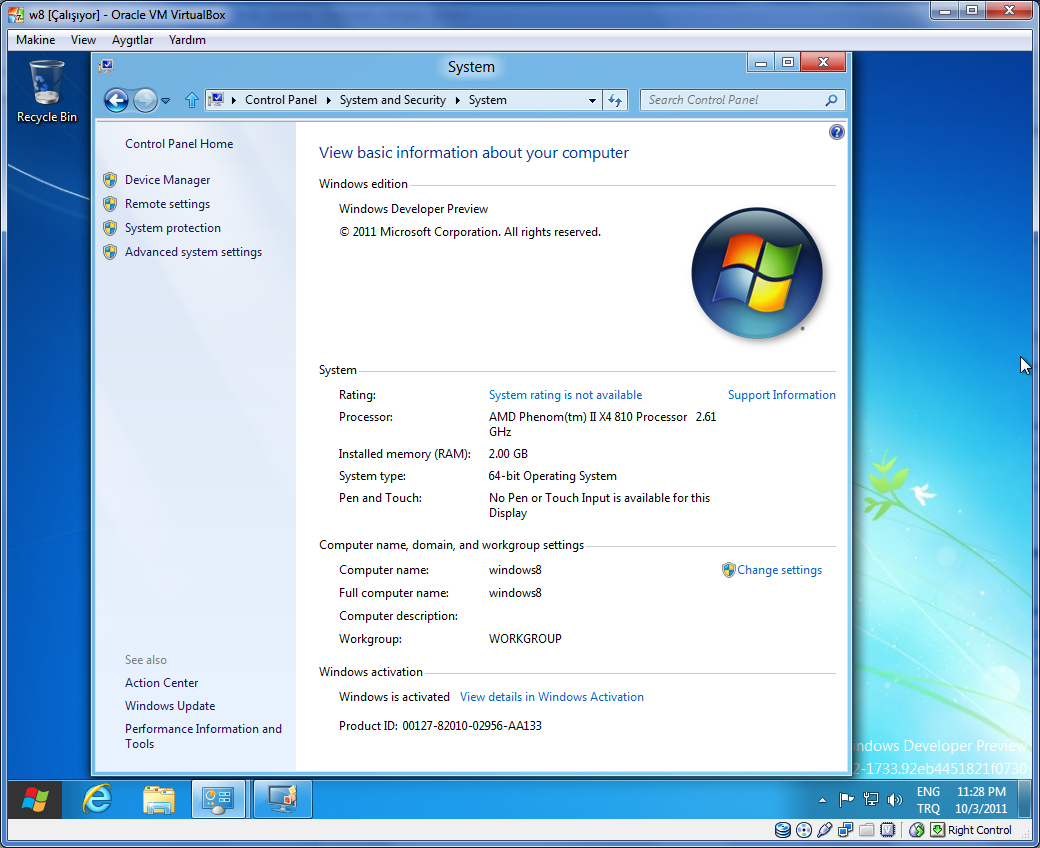 Click on View details in Windows Activation link button to activate Windows 8 or to see Windows 8 activation details.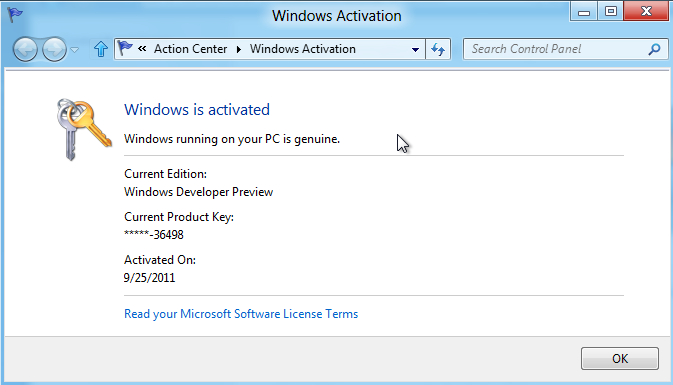 If your Windows 8 operating system running computer is successfully activate Windows 8, then you will see a screen similar to shown below.
Windows is activated
Windows running on your PC is genuine.
Current Edition:
Windows Developer Preview
Current Product Key:
*****-36498
Activated On:
9/25/2011
Read your Microsoft Softwar License Terms
Cheap windows 8.1 Professional serial sold by IBC Groups is 100% guaranteed and gives you the lowest way to access windows 8.1 Professional. windows 8.1 Professionalstrongly recommended for our online shop has received overwhelming positive compliments from our customers. 100% genuine and fast delivery
Service and Terms
The Key and Download links will send to your email within 8 hours. Please do not share the key, or install it on different computers. We offer full refund lifetime but over used keys won't get warranty.
For Download Link:
HTTP download link, from the official website(such as microsoft or adobe.com) or dropbox.com , doc.google.com .
Why Download:
Easier, quicker and more efficient to get the windows 8.1 Professionalinstallation file( ISO, EXE ir DMG), Download only takes a little time, No need to wait for goods Arrivals.
Avoid shipping, safer than buying a fake retail box.
Save for your pocket!
Delivery & Guarantee & Refound:
windows 8.1 Professional Key and Download URL will be send via Email within 8 hours.
Please check your SPAM Box in case it been filtered by your mail spam system.
Offer full refund guarantee if windows 8.1 Professional FULL VERSION key or download do not work. (For key issue, you must confirm you are using a genuine software)
Payment:
The standard payment method of our IBC Groups store is Paypal or Paypal's Credit Cart.You can pay through your PayPal account
You can pay with your credit card without having a PayPal account, When confirm the order, Our program will direct you to the PayPal payment page, You can type in your Credit Card and Billing Information on the left side and pay directly through Credit Card without creating a PayPal account nor sharing your financial information with us, Totally safe.